Post-tax NPV5% of US$110.4 million and IRR of 34.0%
VANCOUVER, British Columbia, Aug. 27, 2019 (GLOBE NEWSWIRE) -- Otis Gold Corp. ("Otis" or the "Company") (TSX-V: OOO) (OTC: OGLDF) is pleased to announce that further to its news release dated July 30, 2019, the Company has filed on SEDAR a National Instrument ("NI") 43-101 Preliminary Economic Assessment (or "PEA") for the Kilgore volcanic- and sediment-hosted epithermal gold deposit, Clark County, Idaho.
The PEA as filed contains an amendment of the PEA findings released on July 30, 2019, arising from the deepening of the main pit design to allow for the extraction of additional mineralized material, as well as a change to depreciation by more fully depreciating the pre-tax capital over the mine life. The amendments, which are summarized below, have enhanced both the NPV and IRR of the project, reduced the payback period, increased the mine life and total recovered gold and reduced operating cash costs and all-in sustaining costs per ounce.
PEA Highlights


After-tax NPV (5% discount rate) of US$110.4 million and IRR of 34.0 %, with a 3.0-year payback period and LOM net cash flow of US$151.8 million;


Pre-tax NPV (5 % discount rate) of US$144.0 million and IRR of 40.6%;


Total amount of gold recovered is estimated at 558,700 ounces;


Average annual gold production of approximately 111,700 ounces;


Peak annual gold production of approximately 119,600 ounces in year 1;


Mine life of 5.0 years with a 1-year preproduction period;


Average crushed material gold grade of 0.72 g/T (grams per Tonne) and average ROM gold grade of 0.24 g/T;


Low LOM strip ratio of 1.1:1;


Royalties – 0%;


LOM direct operating cash cost1 is estimated at US$780/oz of gold recovered and average LOM all-in sustaining cost (or "AISC"2) is estimated at US$832/oz of gold recovered;


Pre-production initial capital cost estimated at $US81.23 million, using contract mining; and


LOM capital costs estimated at US$97.5 million.


1 Cash cost includes mining cost, mine-level general and administrative, leaching, and refining cost.
2 All-in sustaining cost (AISC) includes cash cost per ounce, sustaining capital and closure costs.
Otis President & CEO, Craig Lindsay, states: "This PEA marks an important milestone in Kilgore's development, and we are encouraged to the enhancements in the project's economics. We now have an important road marker outlining where the deposit stands from an economic perspective, and we expect to see a continuous improvement as the deposit evolves. Indeed, the most exciting feature of Kilgore is what lies ahead in terms of the potential to grow the deposit, find new deposits and significantly enhance the life of the project. Our focus going forward will be about growth via the drill bit."
The economic model assumes a gold price of US$1,300/ounce. All currency figures stated herein are United States dollars unless otherwise noted.
The Technical Report, entitled "Independent Technical Report and Preliminary Economic Assessment, Kilgore Project, Clark County, Idaho, U.S.A.", has an effective date of July 30, 2019 and is available under the Company's profile at www.sedar.com and the Company's website at www.otisgold.com. The PEA was authored by Global Resource Engineering, Ltd. of Denver, Colorado.
The PEA is preliminary in nature and includes inferred mineral resources that are too speculative geologically to have economic considerations applied to them that would enable them to be categorized as mineral reserves. There is no certainty that the PEA results will be realized. Mineral resources are not mineral reserves and do not have demonstrated economic viability.
PEA Overview
The Kilgore deposit is interpreted as a low sulfidation epithermal deposit associated with caldera-related volcanic and intrusive activity. The current defined resource area is a zone of mineralization approximately 800 metres long, 600 metres wide, and 325 metres deep from ground surface to the maximum inferred mineral resource depth. Mineralized intercepts in the deposit generally average 40 metres (130 feet) and range up to 100 metres (330 feet) in thickness.
The PEA envisions recovery of gold from crushed and run-of-mine mineralized material using a heap leach facility. The pregnant leach solution from the heap leach would be collected in a dedicated pond and either recirculated or processed in the Adsorption-Desorption-Recovery (ADR) plant. The gold in the solution would be collected on activated carbon in a series of carbon-in-column (CIC) vessels. Gold recovery would take place through stripping the activated carbon into an enriched solution that reports to an electrowinning circuit. The gold would then be recovered as a sludge that would ultimately be smelted into high purity doré bars. Important project metrics are presented in the following tables.
Read more here: https://quotemedia.com/portal/quote/?qm_symbol=OOO%3ACC&qmodStoryID=5269565920679387
!
VANCOUVER, British Columbia, Aug. 23, 2019 (GLOBE NEWSWIRE) -- Otis Gold Corp. ("Otis" or the "Company") (TSX-V: OOO) (OTC: OGLDF) is pleased to announce a non-brokered private placement financing of up to 10,000,000 units at a price of $0.10 per unit, for aggregate gross proceeds of up to $1,000,000. Each unit will consist of one common share and one-half of a common share purchase warrant. Each whole warrant will entitle the holder to acquire one additional common share of the Company at an exercise price of $.15 per common share for a period of 30 months from the closing date of the financing. All funds are in Canadian dollars. Members of the Company's board of directors and management team may be participating in this offering.
The proceeds from this financing will be used to initiate drilling at the Kilgore Project and for general working capital purposes. Finders fees may be paid on a portion of the funds raised. All securities issued will be subject to a hold period of four months and one day from closing. The proposed financing is subject to the approval of the TSX Venture Exchange.
About the Kilgore Project
The Kilgore Project lies on the north-eastern margin of the Miocene-Pliocene Kilgore Caldera complex in the Eastern Snake River Plain, Idaho. The Kilgore Project contains the Kilgore Deposit with a current NI 43-101 resource: Indicated Resource of 825,000 ounces Au in 44.6 million tonnes at a grade of 0.58 g/t Au and an Inferred Resource of 136,000 ounces Au in 9.4 million tonnes at a grade of 0.45 g/t Au. The Kilgore Deposit is a low-sulphidation, gold bearing, quartz-adularia epithermal system hosted in Tertiary volcanic rocks, local Tertiary intrusive rocks, and basement Late Cretaceous, Aspen Formation sedimentary rocks.
About the Company
Otis is a resource company focused on the acquisition, exploration, and development of precious metal deposits in Idaho, USA. Otis is currently developing its flagship property, the Kilgore Project, located in Clark County, Idaho and the Oakley Project, located in Cassia County, Idaho.
ON BEHALF OF THE BOARD
"Craig T. Lindsay"
President & CEO
For additional information, please contact:
Mr. Tony Perri – Corporate Development
Tel: (604) 424-8100 Email: tony@otisgold.com
Neither TSX Venture Exchange nor its Regulation Services Provider (as defined in the policies of the
TSX Venture Exchange) accepts responsibility for the adequacy or accuracy of this release.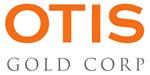 !
!
!
!
!
!